I often get stuck when it comes to throwing one of my children's birthday parties. There are so many decisions to make. First, you have to decide on a theme (the most important question, ask any kid) and then, a myriad of questions seem to follow: how many kids do you want to invite, what should the cake look like, etc.?  One of the more pressing questions for me is always: How will I keep, for example, 10 kids between the ages of 4 and 8 years old busy for a whole morning/afternoon?  I have found that it really helps to have some form of activities planned for the day.  Otherwise chaos is sure to prevail when aforementioned 10 kids reach a sugar-high from the cake and treats at more or less the same moment in time.  One's home can very quickly look like a tornado has hit!
There are times when I have found it much easier to host my kids' parties elsewhere.  For two main reasons: First, my house will not be wrecked and, second, it gives the kids SOMETHING to do if you select a venue where there are decent activities for the kids.  Below are 10 of my favourite kids party venues in Stellenbosch and immediate surrounds:
Weltevreden's Carnival area is well-known as one of the biggest play parks in Stellenbosch.  When it comes to party packages, there is an option between build-your-own pizza or chicken strips and chips for the main meal.  If you select the pizza option for the party the children get to put together their own pizza (margherita or hawaiian) which is always great fun for them.  You are allowed to bring in your own cake at an extra fee and also do the table decorations.  Each boy and girl attending the party also gets a party box so you don't have to worry about treats for the kids.
This is a super fun playground for primary school kids and younger.  You probably won't see much of the kids apart from when they gather to sing for the birthday boy/ girl!  Read more about one of our parties at Weltevreden, here: A princess party at Weltevreden.  We took the pizza option and the kids sure had some fun.
www.weltevreden.co.za/carnival | 021 889 6588
Next up, another huge play park in Stellenbosch, but this time it is indoors.  Eaglevlei sports the biggest indoor play park in town.  If you are having a party on the weekend don't expect to be the only ones doing so.  Chances are that there will be about 8 other parties!  Nevertheless, Eaglevlei packs the chairs and tables to accommodate everyone and create a party zone for each group having a party.  Not that you have to worry too much as the kids will  only ever be at the table for the cutting of the cake.  The play park really is humongous!
For the party package options you get to choose between hamburgers and chicken strips (without fries) and the party guests will also receive a sweet box and cool drink.  We had the chicken strips and it was very fresh and tasty :).  Also read our post on the indoor play park here: The biggest indoor play park at Eaglevlei.
www.eaglevlei.com/playpark | 021 884 4713
Skilpadvlei is a good bet if you have concerns about the weather.  The outdoor play area is the best with great views on the adjacent vineyards and the wine lands, but there is also an indoor play room if the weather turns bad.  Book the table at the restaurant that overlooks the play area for your party or an inside table that is at the entrance to the indoor play room.  Read more on the play areas at Skilpadvlei in our past post, New outdoor play area for Skilpadvlei.  Party packages include a kids meal and dessert for the children with platters available to order for the adult guests.  Bring your own cake and table decor.
www.skilpadvlei.co.za | 021 881 3237
When it comes to kids parties Bugz knows how to set the mood.  Dedicated party zones mean privacy for your party and there is a variety of both indoor and outdoor party zones to choose from including a cooking venue (featured in photo above), barnyard room and crown room.  Some party packages include great activities like the splashing, cooking or makeover parties.  You pay per child attending (minimum 10 kids for a party) and the cover charge includes the party decor, activities, kids meal like a hot dog and juice and party boxes with treats.  All party goers get access to the park and its rides.
Read more about the Bugz Play Park and the rides in our past post, here: Life is a joyride at Bugz family playpark
Two of the outside party spaces – your own play house or castle to explore:
www.bugzplaypark.co.za/parties/info | 021 988 8836
Have a go-kart party at the Dirtopia Cafe at Delvera.  Dirtopia Café is a great place if you have to cater for an energetic bunch of kids.  Kids can make use of the jungle gym, jumping castle and soft clamber toys on the lawn.  The best attraction for kids parties surely is the pedal go-karts.  The go-karts are self-powered and the go-kart track is in an shed that is under-roof with partly open walls.
Photo source: Dirtopia Website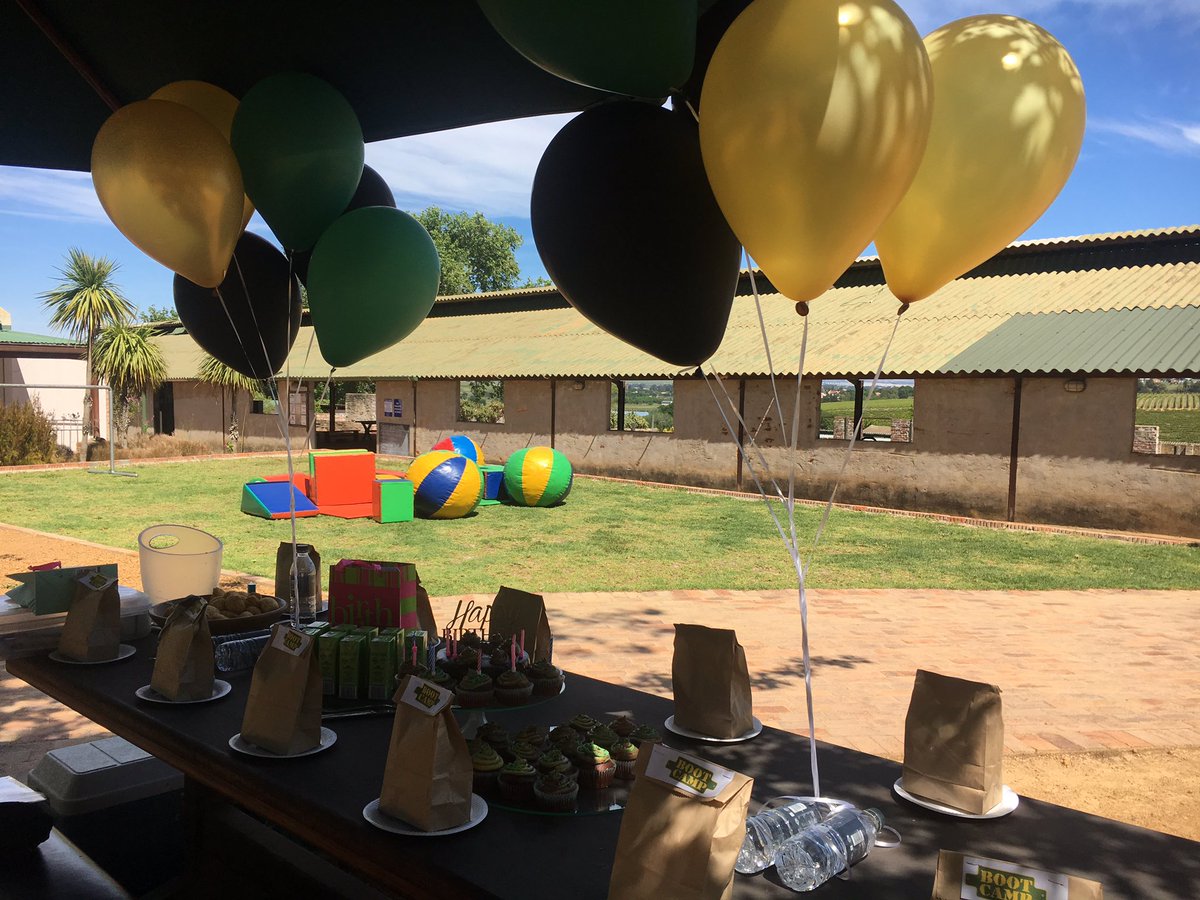 Photo source: Delvera Twitter Page
www.dirtopia.co.za | Hospitality@dirtopia.co.za | 021 884 4752
Photo source: Acrobranch Facebook Page
All kids are acrobats at heart and Acrobranch at Joostenberg is the perfect place to have an adventure-filled outdoors party.  Watch the kids exercise their muscles and brains as they balance, swing and zip line the whole afternoon.  You can select specific obstacle courses according to the age of the kids attending the party.  All activities are done under the watchful eyes of guides who will also explain and help them go ape in the woods.  Perfect for a Tarzan/ jungle themed party!
www.acrobranch.co.za | 086 999 0369
Photo Source: Waterworld Facebook Page
Waterworld makes for the perfect water activity party.  Book a two hour party slot during which time the kids can slide on supertubes and other water slides to their hearts' delight.  A party at Waterworld is definitely not boring!  Waterworld is situated in Beach Road, Strand, next to the main swimming beach.  The cost is R80 per child for 2 hours but you can supersize your party package by adding a party box (R25 – R40 per child) (Prices as at April 2018).  Spectators charged at R15 pp.  Bring your own cake and decor for the table that will be set up under-roof.
Photo Source: Waterworld Facebook Page
www.waterslides.co.za | 021 854 4702
Another member of the Water World Family is World of Adventure at the Root 44 Market.  Similar to Waterworld at Strand the name of the game is fun, and especially water-fun.  Indoors you will find a putt-putt course and jungle gyms.  Outside the real fun is to be had with the water activities.  Think splash pools, inflatable water slides and lots and lots of water mist and sprinklers.
You need minimum 10 kids for a party and the cover charge (R80 per child as from 1 May 2018) gives the party guests access to the play area and all attractions.  Bring your own cake, decorations and party boxes.  Party boxes may also be requested at an additional charge.  Parents and grandparents get free entry but other "spectators" need to pay (R20 pp as in April 2018).  Remember to tell party guests to bring along swimming costumes and towels!
Photo source: World of Adventure Facebook Page
Photo Source: Waterworld Facebook Page
Photo Source: Waterworld Facebook Page
www.worldofadventure.co.za | info@worldofadventure.co.za
Photo source: Bash Facebook Page
Bash is a play centre and restaurant where moms go to eat and have coffee and kids play their little hearts out.  It is located close to the N1 on the Du Toitskloof Pass-side of Paarl.  Bash is definitely known for its indoor play area including wooden jungle gyms, toys and bikes, but they also have an outside play area.  Similar to Bugz Play Park Bash also offers activity-based parties in a private area.  Book the private craft room for pamper parties, canvas painting parties, flower arrangement parties or beading parties etc.  Have fun!
www.bashvenue.co.za | 021 914 1460
Photo source: Jan Kan Facebook Page
Jan Kan in Paarl is a farm stall, coffee shop and overall kids paradise.  Its mission is to be a farm in the city.   It is a space where kids can run wild and be outdoors.  The farm stall sells amazing roosterkoek, pies, fresh fruit and other gifts.
Host a kids party at Jan Kan and get a dedicated space to set up your party.  Let the kids roam free and partake in the various activities on the farm, like tractor and pony rides, jumping castles and splash pools.  Jan Kan is the perfect venue if your little one wants a real "farm party" for his/ her birthday.
Photo source: Jan Kan Facebook Page
www.jankan.co.za | 021 863 0065